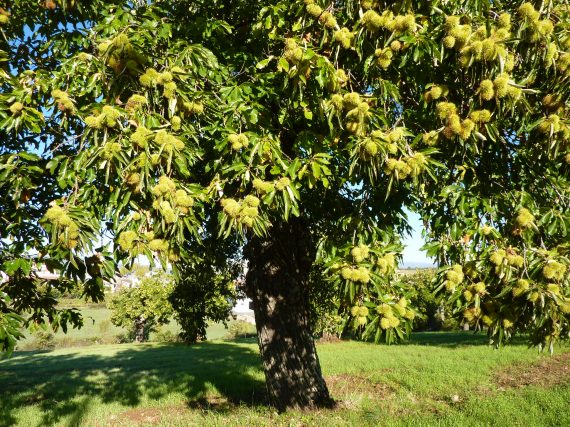 An extraordinary terroir
For our marrons glacés, Pellorce & Jullien buys from the top regions known for their chestnut groves.
Sumptuous golden brown foliage with fruit crunching underfoot: signs that the time has come for the chestnut trees to deliver their tasty delights to our pickers.
The origin of the chestnut has become lost in the mists of time and chestnuts continue to be harvested by hand. Like great wines, the fruit finishes ripening and then dries in cool, dark cellars.
Ensconced in their spiny burs, the nuts are typically divided. The best marrons glacés come from varieties that produce a single fruit per bur.
These edible chestnuts (marrons) possess nutritional values that are invaluable to refined culinary preparations. And the marron glacé is the jewel in the crown.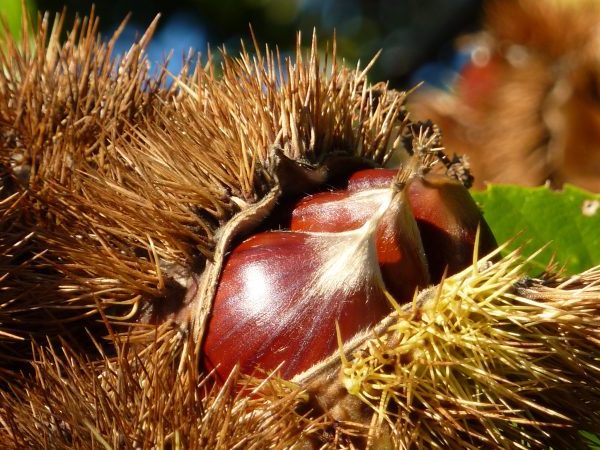 For more than 150 years,  Pellorce & Jullien has been preparing marrons glacés in plump, smooth and mellow colours, with no added colouring or artificial flavours, that we add to our festive sweets.
Most of the handling done during the production of marrons glacés is done manually, because the chestnut is a fragile fruit that requires a great deal of attention and labour. Considerable, ongoing work is done, linked to upgrades to our production facilities, our technology and complete mastery of traditional confectioning, in order to guarantee top of the line quality.
Making our marrons glacés demands proficiency in various stages:
– Approval of batches of raw chestnuts at our harvesting and peeling sites, as per a defined set of specifications.
– Performance of pilot testing (roasting and confectioning) on each batch, involving various developments relating to both our roasting settings and the formulas for our confectionery syrups.
Artisanal production 
1. ROASTING
All our roasting is managed by a programmable machine and is rigorously tested in terms of times and temperatures. Every minute counts when targeting the perfect tenderness. When overcooked, the chestnut's flesh becomes mushy; when undercooked, it is hard and dry.


2. CONFECTIONING
This step involves gradually increasing the concentration of sugars in the fruit by immersing it in sugar syrups.
It takes at least four days for a marron glacé to be candied all the way through. Afterwards, a stabilization phase lasting several days finalizes the confectioning. In other words, it takes a good 10 days to produce a marron glacé with a tender texture and a subtle chestnut flavour.

3. GLAZING
Next comes the "French style" glazing step which consists of covering the fruit in a very thin coat of icing sugar whose final appearance will be glossy and whose delicacy will be worthy of the characteristics of a premium marron glacé. At this stage, rigorous sorting is done to eliminate fruit with undesirable shapes, as well as chestnuts that are too light or dark in colour.

4. DRYING
The marrons glacés are then dried for 12 hours in a temperature and humidity controlled space.

5. PACKAGING
Finally, the chestnuts are packed, either as is or in individual wrappers.
An in-house physical / chemical test laboratory and a microbiology lab allow us to continuously monitor every step in the production process. Naturally, the entire process is traceable in full, from approval of the batches of raw materials to the finished product.

6. ENJOYMENT
The chestnuts are finally ready to be enjoyed! They are available for sale at all great pastry, chocolate and confectionery shops.
STORE OUR CHESTNUTS IN A COOL, DRY PLACE